10 Reasons Every Woman Should Try Lilla Rose Hair Bling
There are lots of reasons to trade in those not so pretty rubber bands, claw clips or bobby pins for some lovely and unique Lilla Rose hair bling.
---
---
1. Beauty
You already wear your hair up anyway. Why not add some bling? Trade in those boring pony tail holders and uncomfortable claw clips for something truly beautiful and unique, like you.
---
2. Flexibility
Lilla Rose hair clips are called that, because they are indeed flexible and will bend around your hair, no matter how you're wearing it. It comes with three notches to help you get a secure fit. Check out this video to see how it works!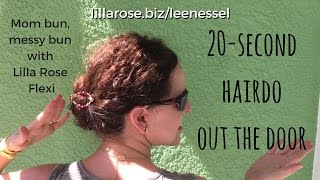 ---
3. Comfort
Claw clips can stab the back of your head, ponytail holders and rubber bands can cause hair headaches and rip out your hair when you take it out and cause hair damage. Lilla Rose hair accessories are comfortable, you can lean back against them and they don't stab your head, and are even comfortable enough to sleep in. Believe me, I know. ;)
---
4. They're For Everyone
Whether you have thin, thick, short or super long hair, there is a Lilla Rose hair clip for you. Lilla Rose has 7 sizes of hair clips to help you fit your hair up snugly and securely. XXS hair clips are great for little girls with fine hair, for those with shorter hair, or anyone wanting to clip their bangs back. XXL are great for those with super long and thick hair, and also for ladies who wear their hair in dreads or thick braids. Check out this sizing video to see what size you'd need.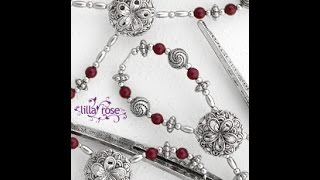 ---
5. Confidence
They say a woman's hair is her crown of glory and when you have a bad hair day, it can really effect your self-confidence. Whether you're having a good or a bad hair day, putting your hair up in some beautiful hair bling will make you feel like a princess. Or at least a woman who is somewhat put together who can go out in public in confidence.
---
6. Secure fit
Have I mentioned these hair accessories stay in place securely all day? I know women who have run marathons in these things, worked on their farms, gone to the beach in their flexi clips and never had to readjust their hair or hair clips. Their hair didn't budge. If it doesn't fit your hair securely, then you may have ordered the wrong size and Lilla Rose headquarters will exchange for a different size within 90 days of ordering.
---
7. Durability
I can't tell you the number of claw clips I broke, the number of pony tail holders I've lost or that have broken. But I bought my first Lilla Rose hair clips 8 years ago, and still wear them to this day (plus quite a few more I've added to my collection). They still look brand new. And you can wear flexi clips safely in the pool and ocean, so it is a summer vacation must have!
---
8. Multi-purpose
Lilla Rose flexi clips can be used for things other than your hair. They can also be clipped to scarves and baggy shirts and handbags, or even put them on your curtains as a beautiful tie-back.  And the gorgeous Lilla Rose hairbands can also be worn as a stylish necklace for an awesome 2-in-1 piece of jewelry.
<!--
-->
---
9. Fun!
Lilla Rose hair accessories are just unique from other hair accessories, and come in a variety of styles and sizes to match your personality, your favorite things, favorite colors, and your favorite outfits. They have everything from flowers and crosses to peacocks, fairies, paw prints, motorcycles and pictured below you'll see me stylin' in my personal favorite, the owl.
---
10. Affordability
You may think $15 for a hair clip seems like a lot, but I assure you, it is worth every penny. Lilla Rose hair accessories are hair jewelry, not cheap hair accessories you could buy at Wal-Mart or Target. It will last you a long time, is pretty, unique, durable, comfortable and fun to wear.
---
Feel free to check out the Lilla Rose accessories and if you have any questions, please shoot me an email.
Keep your hair up and beautiful!
Jenn
---
Which reason(s) sound most intriguing to you?