About
<img align="left" width="250" height="250" src="https://cdn.embracing.life/articles/about-me/profilepic.tiny.png">


My name is Jenn Soehnlin (pronounced sane (as in not insane) plus lin). I'm a Christian who loves writing about faith, praying Scripture, special needs parenting, and embracing this one life we've been given.
I have two precious boys who are both huge blessings in my life and who both have special needs, which led to me writing the book Embracing This Special Life. I enjoy being out in nature, hanging out with my boys, reading, and writing.
---
About "Embracing Life"
My older son has diagnoses of hearing loss, apraxia (a neurological disorder that affects his speech and other areas), and pretty much every type of processing disorder there is. My younger son has a diagnosis of autism and anxiety.
When my boys were two and four, my life was filled with therapies and specialists, with anxiety and depression, with loneliness and anger toward God. And one day, while asking God yet again "Why?" He whispered just one word to my anxious, grieving heart.
"Embrace."
Embrace what? I wondered.
And idea after idea came to me. So much so, I wish I would have written it all down, but I don't think my pen would have flown across the pages fast enough.
I was convicted. Encouraged. Loved by the God of the universe.
He would gently remind me of something I needed to embrace fully in my life. Something that I needed to not only accept, but cherish. My role as a mother. My children. Their diagnoses, their progress, their personalities and their hearts. This special needs journey. Myself. My husband. And most importantly, God and His mysterious, yet trustworthy ways. My perspective was transformed to the Biblical, rather than the worldly way of doing things that I'd been trying to do unsuccessfully for years.
This website is full of encouragement and resources to help you embrace the good things God has for you to embrace. As well as resources and reminders to release the things He doesn't want you to hold onto, so that you have room to fully embrace all the God-given things.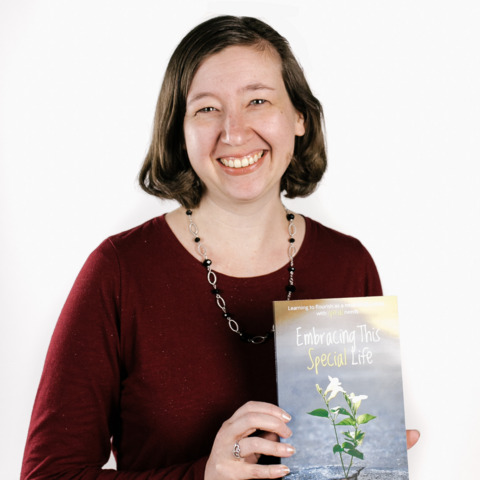 ---
About Praying Scripture
I was overwhelmed with the stresses in my life and of my special needs parenting journey and feeling frustrated that God wasn't listening to any of my prayers. I felt like I was praying for the same thing over and over and God wasn't answering any of my prayers when I needed Him to the most.
But then, I discovered the power of praying Scripture. As I learned to incorporate Scripture in my prayers, my prayers and my heart were becoming aligned with God's heart and His plan for me and my children and I saw how powerful of a tool it can be to transform your faith and your prayer life.
I was frustrated with prayer, feeling like God wasn't moving the mountains I prayed for Him to move, when all along, He wanted to move mountains that were in my heart. Praying Scripture was a tool to help me align my heart with His, and when I was abiding in His Word and His will for me, that's when I saw the mountains move.
I want you to be able to experience that power in your prayer life too! When you subscribe you'll recieve a list of Scriptures to pray for your family, your marriage, and your children to help you get started in your own praying Scripture journey. :)
If you're a fellow special needs mama, subscribe here, and you'll get a list of Scriptures to pray for your special needs child(ren) and your special needs parenting journey.
---
I would love to have you join us on the journey of embracing life and praying Scripture on Facebook and Instagram and feel free to contact me with any questions!
Here's to embracing life together,
Jenn