Praying on the Armor of God
Ephesians is one of my favorite books of the Bible. I find it just so encouraging and a great reminder of who we are in Christ. And then, Paul summarizes how we can apply the things he taught us throughout the book by putting on the armor of God in Ephesians 6:10-18. I love it.
Each piece of the armor of God can be found by having a relationship with Jesus. When you give your life to Jesus you are clothed in the whole armor of God, but we need to keep intentionally putting our armor on to protect us from Satan's schemes.
If you want to learn more about the armor of God, I HIGHLY recommend you order a copy of Priscilla Shirer's Bible study Armor of God. It can be done with a group or on your own, and every single one of her studies is wonderful! I underlined so much while reading this wonderful study and learned so much!
You can pray on the armor of God daily. If you are feeling tempted, weak, afraid, alone, or discouraged, then that is when you need to put on the armor of God immediately. Clothed in the armor of God, we become "strong in the Lord and in His mighty power. Put on the full armor of God so that you can take your stand against the devil's schemes." (Ephesians 6:10-11)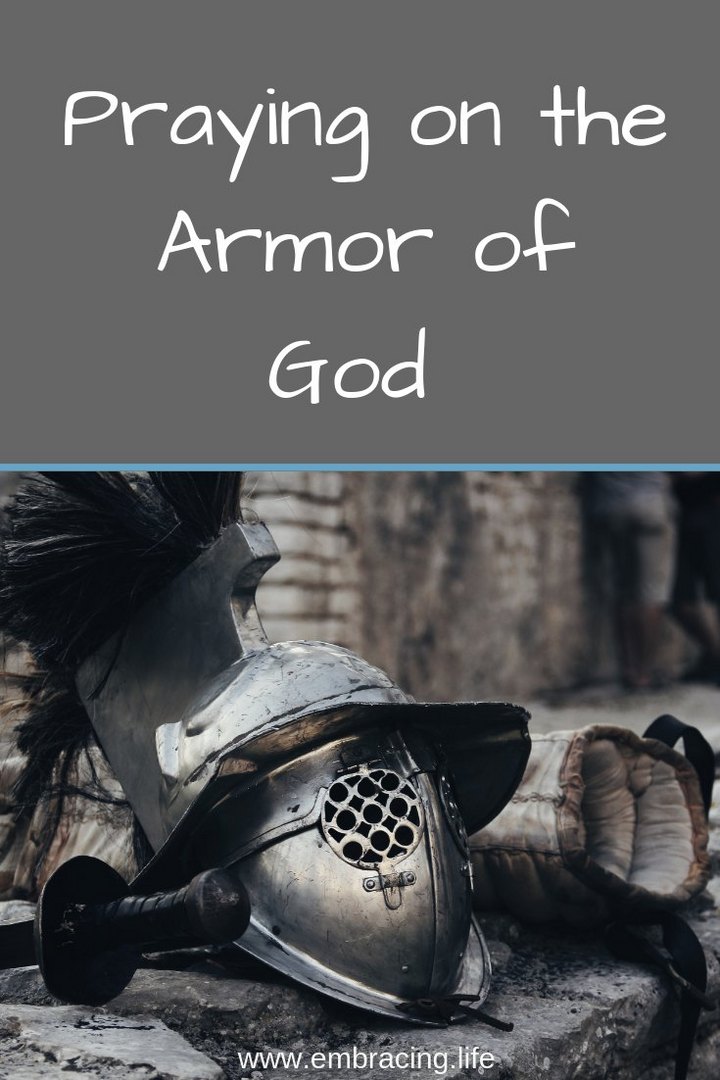 Belt of truth
"Stand firm, then with the belt of truth buckled about your waist..." Ephesians 6:14
The belt is where all other pieces of the armor were connected. It is crucial to have this piece in place and it comes simply by knowing God's truth. What God says about salvation. And what He says about you.
Pray that you would be guided by God's ways and His truths. "Show me your ways, O LORD, teach me your paths; guide me in your truth and teach me, for you are God my Savior and my hope is in you all day long." Psalm 25:5

Pray that you would live and believe in God's truths. "If you hold to my teaching, you are really my disciples. Then you will know the truth, and the truth will set you free." John 8:31

Pray that God's truth would help you live in freedom and light. "Jesus spoke again to the people saying, 'I am the light of the world. Whoever follows me will never walk in darkness but will have the light of truth." John 8:12
Breastplate of righteousness
"Stand firm, then ...with the breastplate of righteousness in place." Ephesians 6:14
The breastplate covers our most precious, vulnerable areas–the heart, lungs, and gut. And because of Jesus' sacrifice on the cross, we can walk in righteousness. Righteousness is upright living that aligns with God's expectations. If you are living according to how God wants us to live, then you are walking in righteousness.
Pray that you would live in the righteousness that is available to us. "Put off your old self, which is being corrupted by its deceitful desires; to be made new in the attitude of your minds; and to put on the new self, created to be like God in true righteousness and holiness." Ephesians 4:22-23

Pray that you would guard your heart so you can live in righteousness. "Above all else, guard your heart, for it is the wellspring of life." Proverbs 4:23

Pray that you would live in faith and obedience. "Abram believed the Lord, and it was credited to him as righteousness." Genesis 15:6
Footwear of Gospel of Peace
"...with your feet fitted with the readiness that comes from the gospel of peace." Ephesians 6:15
The sandals soldiers wore protected their feet as they traveled, and gave them security. In the same way, the good news of the Gospel gives us peace and security, and helps us move forward in faith.
Pray that the gospel would bring peace to your own heart and mind. "Do not be anxious about anything, but in everything, by prayer and petition, with thanksgiving, present your requests to God. The peace of God, which transcends all understanding, will guard your hearts and your minds in Christ." Philippians 4:6-7

Pray that you would be able to boldly share the Gospel. "Pray also for me, that whenever I open my mouth, words may be given me so that I will fearlessly make known the mystery of the gospel, for which I am an ambassador in chains. Pray that I may declare it fearlessly, as I should." Ephesians 6:19

Pray that God would use whatever your situation or 'mountain' to share the gospel with those in similar situation. "Look, there on the mountains, the feet of those who bring good news, who proclaims peace!" Nahum 1:15
Shield of Faith
"In addition to all this, take up the shield of faith, with which you can extinguish all the flaming arrows of the evil one." Ephesians 6:16
When Satan lies to us or makes us feel weary, fearful, discouraged, etc, it is our faith and God's truths that have the power to stop Satan's lies in their tracks.
Pray that you would be on guard and protected from Satan's attacks. "Be self-controlled and alert. Your enemy, the devil prowls around like a roaring lion looking for someone to devour. Resist him, standing firm in the faith..." 1 Peter 5:8-9

Pray that you would truly believe all of God's words and truths about you. "Every word of God is flawless; He is a shield to those who take refuge in Him." Proverbs 30:5

Pray that you would continually grow in faith. "The apostles said to the Lord, 'Increase our faith!' He replied, 'If you have faith as small as a mustard seed, you can say to this mulberry tree, be uprooted and planted in the sea, and it will obey you." Luke 17:5-6
Helmet of Salvation
"Take the helmet of salvation..." Ephesians 6:17
Salvation is being rescued from a state of danger and restored to wholeness. According to Romans 10:9-10, salvation comes from confessing with your mouth and believing in your heart that Jesus is Lord and that He was raised from the dead. A helmet is something you wear to protect your head, just as by constantly remembering your salvation it can protect your thoughts.
Pray that you would always be reminded of your salvation. "It is for freedom that Christ has set us free. Stand firm then, and do not let yourselves be burdened again by a yoke of slavery." Galatians 5:1

Pray that you would always remember your salvation is a gift, and not attained by your works. "But because of His great love for us, God, who is rich in mercy, made us alive in Christ even when we were dead in our transgressions–it is by grace you have been saved ... For it is by grace you have been saved, through faith–and that is not from yourselves, it is the gift of God–not by works so that no one may boast." Ephesians 2:4,8

Pray that your thoughts and lives would continually be transformed because of your salvation. "Do not be conformed to this world, but be transformed by the renewing of your mind, so that you may prove what the will of God is, that which is good and acceptable and perfect." Romans 12:2
Sword of the Spirit
"Take up ... the sword of the Spirit, which is the word of God." Ephesians 6:17
The sword of the Spirit is our only offensive weapon in the armor of God, all others are defensive. We can't always be in a defensive posture though, we have the power to be victorious in Christ simply by using the powerful word of God to stop Satan in his tracks.
Pray that you live by God's words and be able to refute Satan with God's words. "The tempter came to Him and said 'if you are the Son of God, tell these stones to become bread.' Jesus answered, "It is written; 'Man does not live on bread alone, but on every word that comes from the mouth of God." Matthew 4:3-4

Pray that you would be able to fight the lies and strongholds in your life with the word of God. "For though we live in the world, we do not wage war as the world does. The weapons we fight with are not the weapons of the world. On the contrary, they have divine power to demolish strongholds. We demolish arguments and every pretension that sets itself up against the knowledge of God, and we take captive every thought to make it obedient to Christ." 2 Corinthians 10:3-5

Pray that you would learn, memorize and live by the word of God. "All Scripture is God-breathed and is useful for teaching, rebuking, correcting and training in righteousness, so that the man of God may be thoroughly equipped for every good work." 2 Timothy 3:16-17
I hope you enjoyed this list of scriptures to help you pray on the armor of God. If you'd like other lists of scriptures to pray for your children and to pray to overcome fear, subscribe below. 🙂