Praying on the Armor of God
Ms. Clara says in the opening scene of the movie War Room, "War. It's been part of humanity in every age…There always seems to be something to fight for. But one thing that has been true of every war–behind the field of battle, someone has developed a strategy…. I find myself amazed that of the many battles we engage in today… very few of us know how to fight the right way, or understand who we're really fighting against. To win any battle, you've got to have the right strategy and resources because victories don't come by accident."
Paul wrote about the war we are in and the strategies and weapons we need to fight: "...for we are not fighting against flesh-and-blood enemies, but against evil rulers and authorities of the unseen world, against mighty powers in this dark world, and against evil spirits in the heavenly places. Therefore, put on every piece of God's armor so that you will be able to resist the enemy in the time of evil." (Ephesians 6:12-13).
Our enemy is Satan, and his goal is to steal, kill, and destroy (John 10:10). He wants to steal, kill, and destroy your faith, your family, your marriage, your purpose, your identity in Christ, basically anything that is God-given. Satan's mission is to leave us doubting God's goodness, ourselves and our calling.
I absolutely adore Priscilla Shirer's Bible study Armor of God. I thought I knew about spiritual warfare before, having experienced plenty of spiritual battles, and fighting a few more right now, but I learned so much more from this study.
Priscilla shares that we tend to see our problems in non-spiritual terms, something we can fight by having more self-control or googling or reading self-help books. But we don't need wordly weapons to combat what is happening in the spiritual world.
You can pray on the armor of God daily. If you are feeling tempted, weak, afraid, alone, or discouraged, then that is when you need to put on the armor of God immediately. Clothed in the armor of God, we become "strong in the Lord and in His mighty power. Put on the full armor of God so that you can take your stand against the devil's schemes." (Ephesians 6:10-11)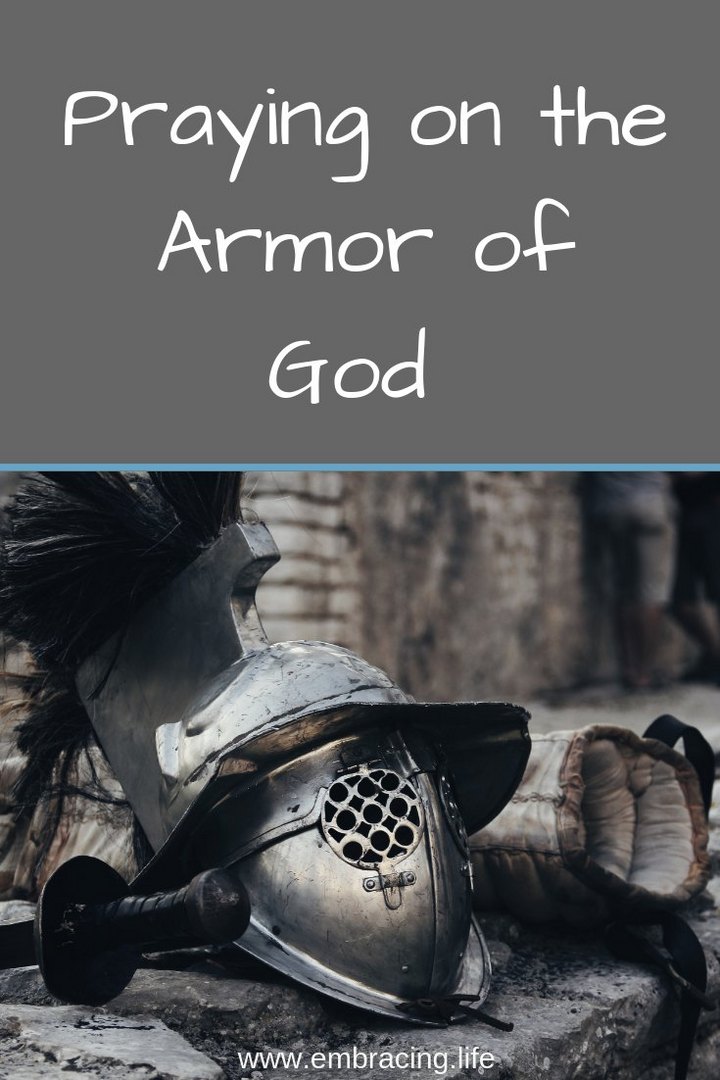 Here's a little about each piece of the armor of God and a Scripture-based prayer to help you activate that piece of the armor through prayer.
Belt of Truth
"Stand firm, then with the belt of truth buckled about your waist..." Ephesians 6:14
The belt is where all other pieces of the armor were connected. It is crucial to have this piece in place and it comes simply by knowing God's truth. What God says about salvation. And what He says about you.
Heavenly Father,

I buckle myself up with the belt of truth. May I have spiritual eyes that are open and aware of Satan's schemes and lies in my life (2 Kings 6:15-17). Show me your ways, O Lord, and teach me your paths, guide me in your truth and teach me (Psalm 25:5). I thank you that you are the light of the world who helps me to not walk in darkness, but to walk according to the light of truth (John 8:12). Help me to hold fast to your truths, for the truth is able to set me free and helps me walk in victory (John 8:31).

Amen
Breastplate of Righteousness
"Stand firm, then ...with the breastplate of righteousness in place." Ephesians 6:14
The breastplate covers our most precious, vulnerable areas–the heart, lungs, and gut. And because of Jesus' sacrifice on the cross, we can walk in righteousness. Righteousness is upright living that aligns with God's expectations. If you are living according to how God wants us to live, then you are walking in righteousness.
God,

I thank you that I am covered by the breastplate of righteousness. I thank you that you have provided a way for me to be righteous and holy before you, thanks to the precious blood of your son, Jesus. Help me to guard my heart (Proverbs 4:23) and to be made new in the attitude of my mind, to put on my new self, created to be like God in righteousness and holiness (Ephesians 4:22-23). Help protect me from the temptations I battle, for in your faithfulness you will not let me be tempted beyond what I can bear (1 Corinthians 10:13.)

Amen
Footwear of Gospel of Peace
"Stand firm...with your feet fitted with the readiness that comes from the gospel of peace." Ephesians 6:15
The sandals soldiers wore protected their feet as they traveled, and gave them security. In the same way, the good news of the Gospel gives us peace and security, helps us move forward in faith, and compels us to share our peace, the Gospel, with others.
Father,

I pray that I would put on the gospel of peace and carry it with me wherever I go and to whoever I interact with today. Help me to let go of all fearful and anxious thoughts and let the good news of the Gospel flood my heart and mind with a peace that transcends all understanding (Philippians 4:6-7). I pray that words may be given me so that I would fearlessly make known the mystery of the Gospel" (Ephesians 6:19). I pray that I would bring good news which proclaims peace to others (Nahum 1:15).

Amen
Shield of Faith
"In addition to all this, take up the shield of faith, with which you can extinguish all the flaming arrows of the evil one." Ephesians 6:16
When Satan lies to us or makes us feel weary, fearful, discouraged, etc, it is our faith and God's truths that have the power to stop Satan's lies in their tracks.
Heavenly Father,

I pray that I would take up your shield of faith that will extinguish all the darts and threats hurled my way by the enemy. Help me to stand firm against the enemies lies and threats, to resist him and stand firm in my faith (1 Peter 5:8-9). I thank you that your word is flawless and is a shield for all those who take refuge in you (Proverbs 30:5). I admit that I do believe, but help my unbelief (Mark 9:23-24). Help my faith to grow (Luke 17:5-6).

Amen
Helmet of Salvation
"Take the helmet of salvation..." Ephesians 6:17
Salvation is being rescued from a state of danger and restored to wholeness. According to Romans 10:9-10, salvation comes from confessing with your mouth and believing in your heart that Jesus is Lord and that He was raised from the dead. A helmet is something you wear to protect your head, just as by constantly remembering your salvation it can protect your thoughts.
My Redeeming God,

I put on the helmet of salvation, reminding myself that Christ has set me free from sin. Help me to stand firm and not get burdened again by a yoke of slavery (Galatians 5:1). Thank you for your great love for us, for your mercy, for your grace, that makes me alive in Christ (Ephesians 2:4, 8). Thank you that my salvation is a gift and not something I can earn (Ephesians 2:8). I pray that I would continually be transformed by the renewing of my mind so that I would know God's good, pleasing, and perfect will for me (Romans 12:2).

Amen
Sword of the Spirit
"Take up ... the sword of the Spirit, which is the word of God." Ephesians 6:17
The sword of the Spirit is an offensive weapon in the armor of God, all the others we've mentioned are defensive and protective. We can't always be in a defensive posture though, we have the power to be victorious in Christ simply by using the powerful word of God to stop Satan in his tracks, like Jesus used Scripture to fight Satan's temptations in the wilderness in Matthew 4.
Heavenly Father,

I take up your sword of the Spirit, your very Word, which has the power to demolish strongholds, arguments, and every pretension that sets itself up against the knowledge of God (2 Corinthians 10:3-5). I thank you that man does not live on bread alone, but on every word that comes from your mouth (Matthew 4:3-4). Help me to use your Word to refute the devil's lies as Jesus did (Matthew 4). Thank you that your Word has the power to teach, rebuke, correct, and train me in righteousness so that I can be equipped to do your good works (2 Timothy 3:16-17). Thank you that your Word is alive, active, and sharper than any double edged sword (Hebrews 4:12).

Amen
Prayer
"..and pray in the Spirit in all occasions, with all kinds of prayers and requests...Be alert and always keep on praying." Ephesians 6:18
Many times when people talk about the armor of God, they leave off this final piece, which to me seems to be the most important. This piece helps activate all the other pieces of armor. Prayer helps us defend ourselves, and to fight against the powers of darkness. Plus, we now have two offensive weapons available to us: both the Word of God and prayer. Maybe that's why I love praying Scripture so much, by combining both weapons together, imagine how powerful that is against Satan!
Heavenly Father,

I thank you that you gave us the gift of prayer, a form of communication and connection with you. I pray that I would devote myself to prayer (Colossians 4:2), that I would not be anxious about anything, but in every situation, by prayer and petition, with thanksgiving, present my requests to you (Philippians 4:6). I thank you that I do not pray alone, but that the Spirit intercedes for me with groans that words cannot express (Romans 8:26), and that Jesus intercedes for me in prayer (Romans 8:34), and that you, Father God, bend down to listen to my prayers (Psalm 116:2-4). Help me to grow in prayer and may my heart grow in alignment with your heart as I pray.

Amen.
---
I hope you enjoyed these Scripture-based prayer to help you pray on the armor of God. If you'd like a list of Scripture-based prayers to pray for your family, subscribe below. 🙂