15 Scriptures to Pray When You're Struggling With Fear
Fear has played a huge role in my life in a few areas of my life. Fear can be paralyzing, or make us do things that make no sense. It gets us nowhere, but we still struggle with it.
I've worried about my kids, and avoided quite a few things out of a fear of failure or criticism. Fear has made me at times disobey God. And so, I did what I always do when I'm struggling with something—look up a lot of Scriptures that relate to that topic, and turn them into personalized prayers. I take each verse and add my own personal struggles in that area.
Why praying Scripture is so important:
-God gave us His word and He wants us to pray. When you combine the two spiritual disciplines of reading the Word and prayer by praying Scripture, it will help you apply God's word to your life while growing deeper in your prayer life.
-Praying Scripture honors God by using His own words to praise Him and pray to Him.
-We tend to pray for things WE want, but praying Scripture will help align your desires with what HE wants. And when our desires are aligned, that's when we're most likely to see God move powerfully in our prayers.
-If you don't know how to pray about something, you can find a Scripture that will help you say it, deepening your prayer language.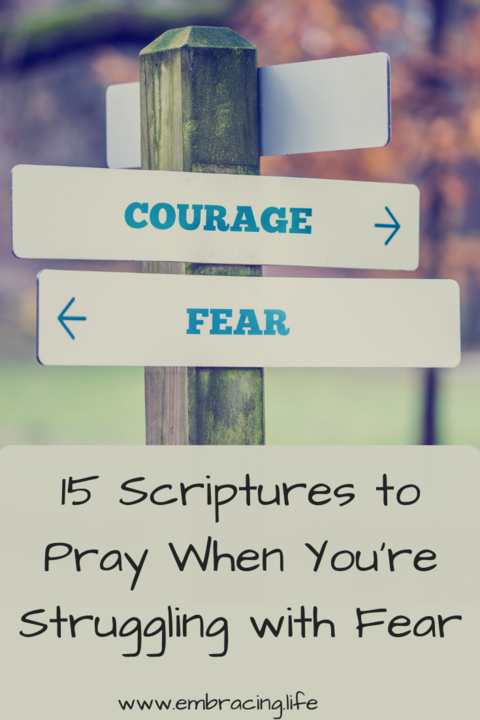 There's hundreds of verses in the Bible about fear, approximately one for every day of the year, but I chose the 15 areas I feel most helpful for praying regarding fear. Feel free to print this list out, and personalize them to your own fears and situations.
Pray that when you are feeling afraid, you will turn to God. "But when I am afraid, I put my trust in you. In God, whose word I praise--In God I trust and am not afraid. What can mere mortals do to me?" Psalm 56:3-4

Pray that you would be reliant on God's strength and support. "I have chosen you and have not rejected you. So do not fear, for I am with you; do not be dismayed, for I am your God. I will strengthen you and help you; I will uphold you with my righteous right hand." Isaiah 41:9-10

Pray that you would not let the fear of bad news in your life or in the world take over your heart and mind. "They will have no fear of bad news; their hearts are steadfast, trusting in the Lord." Psalm 112:7

Pray that you would stand firm in faith. "Be on your guard; stand firm in the faith; be men of courage; be strong. Do everything in love." 1 Corinthians 16:13-14

Pray that you would have courage. "Have I not commanded you? Be strong and courageous. Do not be terrified; do not be discouraged, for the LORD your God will be with you, wherever you go." Joshua 1:9

Pray that you would have no fear of man. "Am I now trying to win the approval of men, or of God? Or am I trying to please men? If I were still trying to please men, I would not be a servant of Christ." Galatians 1:10

Pray that you would have no fear of failure. "You will obey the LORD and follow all his commands I am giving you today. Then The LORD your God will make you prosperous in all the work of your hands..." Deuteronomy 30:8-9

Pray that you would have no fear of the future. "Therefore I tell you, do not worry about your life, what you will eat; or about your body, what you will wear ... Who of you by worrying can add a single hour to your life?" Luke 12:22,24-25

Pray that you would share your faith boldly, without fear. "Pray also for me, that whenever I open my mouth, words may be given to me so that I will fearlessly make known the mystery of the gospel, for which I am an ambassador in chains. Pray that I may declare it fearlessly, as I should." Ephesians 6:19-20

Pray that you would surrender your fears to God. "Don't fret or worry. Instead of worrying, pray. Let petitions and praises shape your worries into prayers, letting God know your concerns. Before you know it, a sense of God's wholeness, everything coming together for good, will come and settle you down. It's wonderful what happens when Christ displaces worry at the center of your life." Philippians 4:6-7 MSG

Pray that you would grow in faith. "You don't have enough faith," Jesus told them. "I tell you the truth, if you have faith as small as a mustard seed, you can say to this mountain 'move from here to there' and it will move. Nothing will be impossible for you." Matthew 17:20

Pray that you would be secure in your calling and in how God has uniquely crafted you. "For we are God's workmanship, created in Christ Jesus to do good works, which God prepared in advance for us to do." Ephesians 2:10

Pray that you would experience freedom from fear. "For God did not give us a spirit of fear, but a spirit of power, of love, and of self-discipline." 2 Timothy 1:7

Pray that you would not live in fear but in your spiritual identity. "For you did not receive a spirit that makes you a slave to fear, but you received the Spirit of sonship. And by him we cry, 'Abba, Father.' The Spirit himself testifies with our spirit that we are God's children." Romans 8:15-17

Pray that you would be obedient to God, despite your fear. "Stand firm. Let nothing move you. Always give yourselves fully to the work of the Lord, because you know that your labor in the Lord is not in vain." 1 Corinthians 15:58
If you enjoy praying Scripture and would like to get a printable resource of Scriptures you can pray for your family, your marriage, and your children, subscribe below. Happy praying!